Photo tour of Midtown's $540M Broadwest development shows progress with three months until first tower opens
Dec 8, 2020
Nashville Business Journal
Sometime in 2021, a lawyer from Baker Donelson will settle into a corner office on the top floor of the office tower at Midtown's Broadwest development and inherit a memorable vantage point.
This 21st-story view doesn't face downtown, but instead, up West End Avenue toward Vanderbilt University. Because of how the office tower is positioned on the 3.9-acre site, and the way West End Avenue angles just enough at that point, it appears as if the office hovers over the road, with cars passing directly underneath.
The trip to the top of the office tower, which opens March 1, was one of several stops on a construction tour of the $540 million mixed-use development that is transforming the long-dormant site where Broadway and West End split.
On the other side of a plaza as big as a football field, a 34-story tower is rising that will contain a 234-room Hilton Conrad hotel (developed with Franklin's Chartwell Hospitality) beneath 20 floors of luxury condos. Four of nine penthouse units are under contract, said Chris Brown, a principal with Propst Development. He declined to say how many of the 196 total units are under contract, though he said the first batch of closings will occur in May and he has raised prices on a couple of types of units in response to initial demand.
"A lot of the jobs that have been announced are just now arriving," Brown said. "We're well into our mile run and making good progress."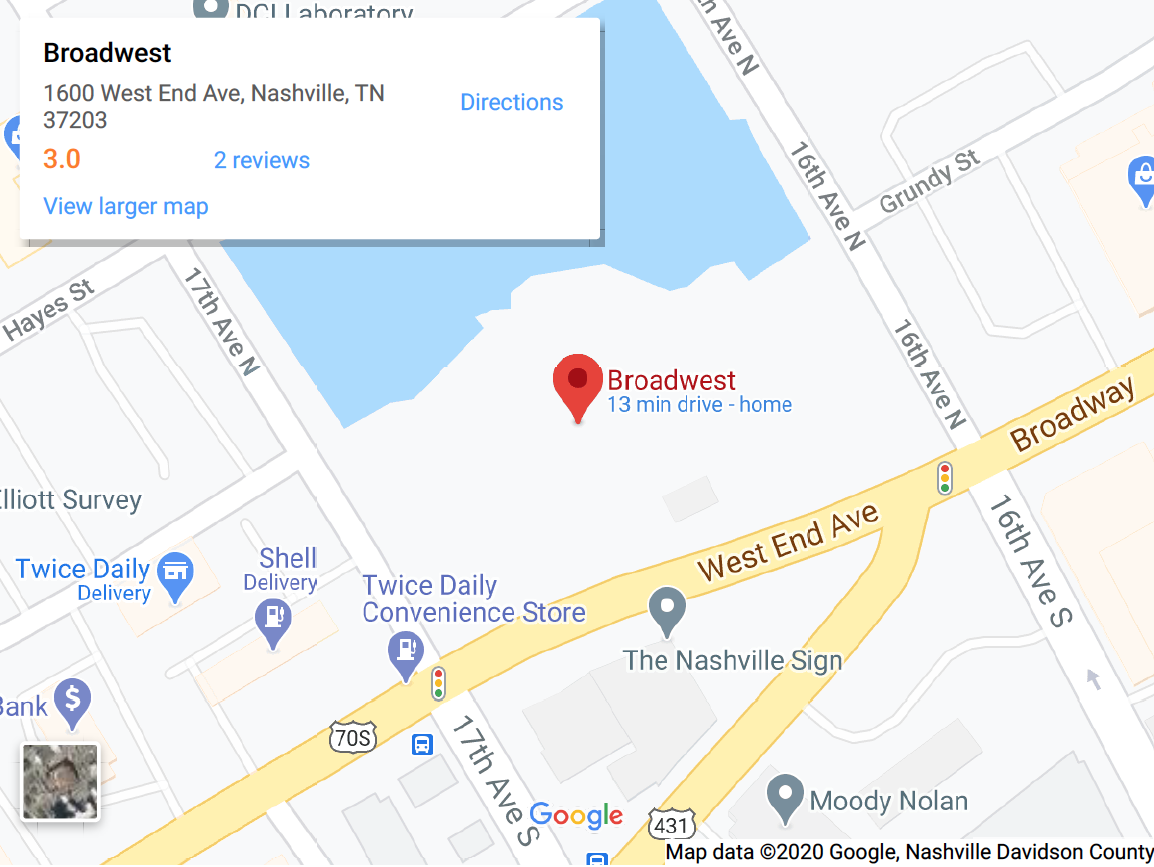 Broadwest's 510,000-square-foot office tower will rank among the five largest office buildings in Nashville. More than 20% of the tower is leased thus far, including law firm Baker Donelson, financial planner Robert W. Baird & Co. and ServisFirst Bank. A couple of leases are imminent, Brown said.
The Hilton Conrad is set to open in the first quarter of 2022. Broadwest contains 42,000 square feet of retail, much of it in a three-story building at the north end of the property. That building also contains creative office space, designed to be higher-density, with people working in close proximity.
Brown said the pandemic has reduced demand for that kind of space in the immediate. He isn't forecasting a long-term shift away from that style of office, especially as more of the population receives vaccines and begins returning to the workplace.
"The 'new norm' will be closer to the old norm than it appears now," Brown said.
---