Pandemic hasn't slowed Broadwest construction project
Fox17 - August 28, 2020
NASHVILLE, Tenn. (WZTV) — The construction happening at the Broadway and West End split in Nashville is now harder to avoid. The two towers of Broadwest are mostly constructed and the sales building for the Residences at Broadwest is now open.
FOX 17 News is getting an inside look at the construction and what the condos will look like inside. The developer says the finishes are luxury-style for nearly 200 residences. You can see the condos for yourself at the sales building on the corner of 17th and Hayes streets.
All residences include a marble countertops, professional-grade appliances and other elevated details. Tenant buildout starts in September with tenants moving in late 2021.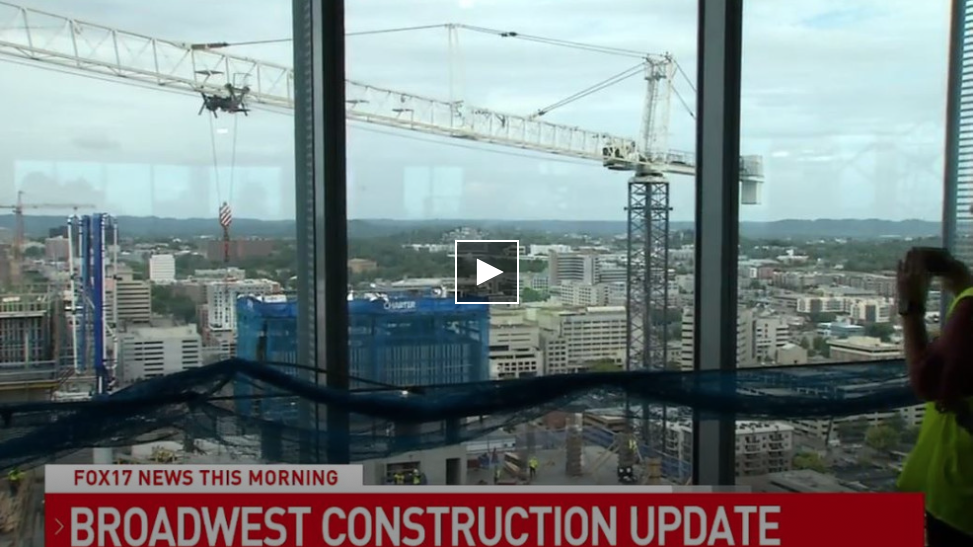 "It's the only luxury-style living in Nashville where you can also get hotel amenities like room service," says Zach Goodyer of Village Real Estate. They are heading the sales for the Residences at Broadwest, which start in the mid-$500,000 price range.
"The Residences at Broadwest anchor the top 20 floors of what will be the Conrad Nashville hotel," Goodyear says. "Tenants can get room service and utilize hotel amenities just like guests would be able to do."
The condos offers one, two and three bedroom floor plans, in addition to nine penthouses. Goodyear admits the Residences targets a mid-to-higher level income. However, he believes what the Residences offers is unique.
"I think what the pandemic has done is it's forced people to re-evaluate their living situation. We're all stuck at home. People are wanting more space and they're spending more money because that's where their family and life is," he says.
The 21-story office building is topped out now and is almost fully glassed in. Tenants have already been secured, according to Chris Brown with Propst Development behind the project.
With more people working from home in 2020, Fox 17 News asked Brown about his thoughts on the need for office space in the future.
"I'm old enough to remember when Y2K happened and September 11. everybody said you won't build tall buildings again. I think there will be changes but at the end of the day people like collaboration and working with peers," he says. So far there have been no issues leasing office space to tenants.
The mixed-use development project also features retail and green space.
---