New tenant revealed for $540M Midtown development
Robert W. Baird signs lease at $540 million Broadwest Project
Nashville Business Journal
By Meg Garner
December 16, 2019
---
One of Nashville's largest financial planners is moving its local headquarters to the $540 million project set to transform West End Avenue.
Robert W. Baird & Co. is set to occupy 19,204 square feet of space inside Broadwest's 21-story office tower, located at 1600 West End Ave., the company confirmed to the Nashville Business Journal. The company currently is based at 2525 West End Ave., which flanks Vanderbilt University's campus.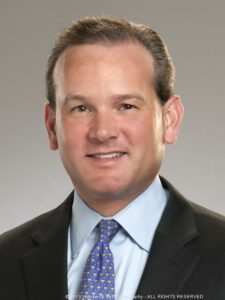 Parker Griffith runs Robert W. Baird & Co.'s Nashville team.
HATCHER & FELL
"Our Baird office was started here in 2000, and we've grown that from zero to $4.5 billion in assets," Parker Griffith, Baird's Nashville chief, said in an interview. "[The new office is] a real symbol to our associates of the progress we've made in the Nashville community."
Baird joins law firm Baker Donelson and Alabama-based ServisFirst Bank at Broadwest, which is being spearheaded by Propst Development.
"[Baird] is in the top 20 of Fortune's 100 Best Companies to work for and we are delighted to have them choose the Broadwest community for their new home," Chris Brown, president of Propst Development, said in a statement.
The new space will allow Baird to physically combine its existing Nashville team with those employees who transitioned to Baird following its acquisition of Louisville-based Hillard Lyons a year ago. (Hillard Lyons made a splash in the Nashville market when it bought locally based Avondale Partners in March 2018.)
The firm currently has 58 associates between its Nashville offices, with those employees slated to move into Broadwest in March 2021, according to Griffith.
Baird is Nashville's fifth-largest financial planning firm, with more than $4 billion in local investment assets, according to NBJ research.
---