New images released for
Broadwest retail spaces
Developer of Midtown project taps Colliers to handle marketing, leasing efforts
Nashville Post
By William Williams
February 18, 2019
---
The Alabama-based developer of Broadwest — the two-tower project under construction on West End Avenue in Midtown — has released updated images for the retail and restaurant components and has tapped Colliers International | Nashville to market and lease those spaces.
When completed in 2021, Broadwest will offer approximately 42,000 square feet of retail and restaurant space, with some shops and eateries facing a green space that will address Hayes Street on the north side of the development, according to a release.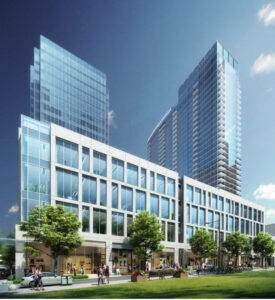 In addition to Hayes Street, retail storefronts will face West End Avenue via Broadwest's 1.5-acre pedestrian focused outdoor plaza. Three restaurant areas are available, including space adjacent to the office tower lobby (that tower is rising on the east side of the project's footprint). All three spaces are on the plaza level and include patio areas and urban views.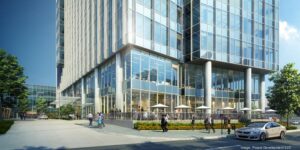 Tony Vaughn and Mike Baggett are leading the retail leasing efforts for Colliers.
"Broadwest is an extremely attractive landmark location in the city's vibrant and growing core," Vaughn, Colliers International | Nashville executive vice president and partner, said in the release. "Retailers and restaurants will have a captive community of consumers with Broadwest residents, office workers and people living and working in the evolving nearby neighborhoods."
In 2019, ServisFirst Bank announced it will open a retail financial center adjacent to the outdoor plaza, with its Nashville division office to occupy the second floor of the office tower. In addition, law firm Baker Donelson and investment firm Robert W. Baird investment firm have signed leases for the Broadwest office tower.
Huntsville-based Propst Development, led by principal Chris Brown, is developing Broadwest, with the buildings to offer a collective 1.2 million square feet of space. In addition to the Class A office tower, the development will include a taller tower (positioned on the west side of the footprint) offering 196 high-end condominiums and a 234-room Conrad Nashville hotel. Franklin-based Chartwell Hospitality is involved in the hotel building effort.
An underground parking garage will provide 2,500 parking spaces, bike storage, electric car-charging stations, smart technology and 24-hour security. Valet service and rideshare space will be available on the plaza level that motorists can access via West End Avenue.
The Nashville of JLL is handling the marketing and leasing of the future office building space.
The address for Broadwest is 1600 West End Ave.
---