Conrad Nashville Hotel Announced for 2021
237-room luxury hotel to anchor new, upscale Broadwest community
Hotel News Resource
May 23, 2019
---
Propst Development, Chartwell Hospitality LLC and Hilton (NYSE: HLT) today announced the signing of Conrad Nashville, slated to open in 2021. The 237-room Conrad Hotels & Resorts hotel will anchor one of the two towers at Broadwest, Nashville's new $540-million, urban mixed-use community, which will also include Class AA office space, upscale retail offerings and high-end condominiums.
Conrad Nashville will be co-owned by Propst Development, a real estate and development company based in Huntsville, Alabama with projects across the Southeast, and Chartwell Hospitality LLC, an integrated hotel operations and development company based in Franklin, Tennessee. Chartwell Hospitality will operate the hotel, which will offer guests one-of-a-kind experiences with sophisticated, locally inspired surroundings.
"As the third-ever franchised luxury property by Hilton, Conrad Nashville will set a new standard for luxury in our region, and we look forward to welcoming travelers from around the globe to experience Nashville's world-class hospitality," said Rob Schaedle, founder and managing partner of Chartwell Hospitality. "Hilton's decision to bring a Conrad property in our backyard signifies that Broadwest will be a destination of its own, and we are honored to uphold the brand's standards while adding our signature flair for visitors and locals."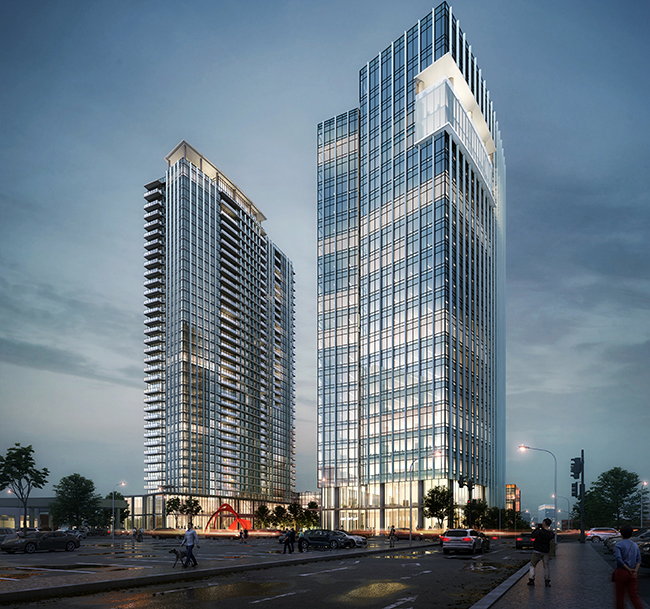 "Nashville offers a dynamic and burgeoning destination for Conrad, and we are thrilled to grow the brand within the Americas in partnership with Chartwell Hospitality," said Martin Rinck, executive vice president and global head, Luxury & Lifestyle Group, Hilton. "As we continue to develop Conrad as a global luxury brand, we look forward to bringing contemporary design, leading innovation and curated art to our globally connected travelers in Nashville."
The 14-floor Conrad Nashville will anchor a 34-story tower to include 196 high-end condominiums. A 21-story office tower with 510,000 square feet of Class AA space will rise next to the hotel and condo tower at Broadwest. The two towers will be connected by an additional 125,000 square feet of retail and creative office space and will be anchored by a 1.5-acre plaza at the heart of this new community.
Cooper Carry is the design firm and Hoar Construction is the general contractor for the hotel. Developers have hired New York-based interior designer Champalimaud Design, which has crafted the aesthetic of high-end hotels around the world.
Propst Development LLC is bringing Broadwest to life on a full city block at 1600 West End Avenue, within an easy walk to restaurants, entertainment, music and sports venues.
Leaders from Propst Development and Chartwell Hospitality said Hilton's decision to develop a Conrad in Nashville was based on the city's ability to draw sophisticated travelers, the highly desirable location of Broadwest and the development team's ability to secure funding.
"Conrad will be a great anchor destination for our world-class Broadwest community," said Chris Brown, principal of Propst Development. "Nashville has been longing for a high-touch, signature hotel property and the Conrad will meet that demand."
Chartwell Hospitality has significant experience building high-quality hotels across the country and has 26 Hilton products in its portfolio, including eight in the Nashville area.
Conrad Nashville is projected to open in 2021 and will join the brand's growing portfolio, which currently includes eight properties open in the Americas and nearly 30 others across the globe.
---